EcoMaxx - No Return Valve (NRV) - with NFPA 69-2014 Controls Pkg.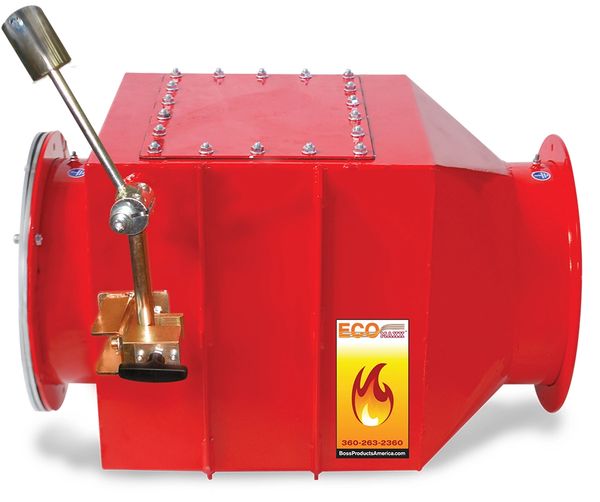 EcoMaxx - No Return Valve (NRV) - with NFPA 69-2014 Controls Pkg.
This Listing is for (1) (Specify Diameter) No Return Valve (NRV) with NFPA 69-2014 Required Control Panel, Dust Level Sensor, and Microswitch - complete dimensions available upon request.

*Items should ship within 7 days if in stock.  Standard Lead time is 30 days and may be longer in rare circumstances.  If lead time is a concern, send message to inquire about stock and lead time at time of order.  Items shipping to Alaska or Hawaii are shipped for the freight amount listed to your Seattle Freight Forwarder.  Customer responsible for freight forwarding charges from Seattle to Destination.

SAFETY SMART – EcoMAXX™ NO RETURN EXPLOSION ISOLATION VALVES SATISFY CURRENT 2014 NFPA REQUIREMENTS!
The Installation of an Explosion Isolation Device on all suction side ducts that transport material with a Kst value above zero is a NFPA requirement.
Installing a SAFETY SMART EcoMAXX™ No Return Valve (EM-NRV) will protect workers and facilities from the damaging effect of a baghouse or filter explosion.
EcoMAXX™ No Return Valves are an integral component that is recommended for use with EcoBoss™ Energy Management Systems, EcoMAXX™ Fire Break Shutters, and EcoMAXX™ Fire Suppression Systems.
Standard Features
Heavy Duty Welded Steel Construction
Flanged Inlet and Outlet with Co-Flanges
Inspection/Access Door
Grounding Lug
Locking Mechanism
ATEX Certified
Included Optional Items (These Items are Included in Listing Price) - Inquire via message for separate listing if you wish to purchase without NFPA 69-2014 Required Included Items

Micro-switch for system shut down
Dust level sensor
Control panel for sensor power and integration with existing, new or EcoBOSS™ control panel